Skip to Content
Red Leaf Solutions Creates Custom Wine Racks in Larkspur, CO
What Are the Benefits of Custom Wine Racks for Your Home?
Wine connoisseurs enjoy collecting wines by vintage, region, grape variety, type, price, and many other characteristics. Wines typically improve their taste and aroma with age, making collecting, storing, and savoring them a worthy pastime for people of all ages. Caring for wines is more challenging than other collections. For starters, proper wine storage is essential to maintain the quality of the wines. Wines must be stored under specific conditions to prevent them from spoiling and ruining your investment.
The concept of having a wine cellar used to be reserved only for fine dining establishments or the upper classes. However, as more people have developed a taste for wine collecting, the demand for home wine cellar racks has also been on the rise in recent years. Red Leaf Solutions has been your local source for custom wine racks in Larkspur, CO and surrounding areas for over two decades. Our team of experts can build you an attractive, one-of-a-kind wine racking system in your home that you'll appreciate for many years to come. Reach out today to request a free in-home design consultation!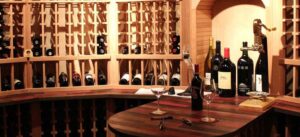 Most Popular Types of Modern Wine Racks Include Metal & Wood
Modern wine racks for the home come in numerous materials and configurations to suit any layout, budget, or preference. Wall-mounted stainless steel, polished aluminum, or metal wine racks allow you to conserve space without sacrificing how many bottles you can store at a time. We've crafted floor-to-ceiling custom racking solutions that are as practical as they are beautiful to behold. If you have your heart set on wooden wine racks, Red Leaf Solutions sources the highest quality woods. Whether you prefer walnut, maple, mahogany, hickory, or redwood, you won't find a better selection than what we provide to our customers. We can build your new wine storage racks single-, double-, or triple-deep to display your collection in the best light possible while giving you ample room to grow your collection.
Home Wine Racking Solutions Customized to Your Preferences
Red Leaf Solutions can install various types of custom wine racks in your Colorado home. Our custom wine racking solutions include individual bottle storage, diamond bin storage, and case storage systems. The number of bottles you plan on storing and the length of storage time usually dictate which type of racking system we recommend.Diamond bin or case storage tend to be better solutions if you're storing wine bottles in bulk. In contrast, individual bottle storage might be perfect for the homeowner looking to keep the occasional bottle or two. While you could purchase a pre-made wine racking system, most wine collectors prefer having one built and installed according to their preferences. Red Leaf Solutions works with many of the industry's premium manufacturers, including VintageView® wine racks.
Today's Wine Rack Features Are Limited Only by Imagination
When designing wine storage racks, you're limited only by your imagination. Today's wine rack designs include wall mounts, storage cubes, grid displays, curvy cubes, and so much more to make them the focal point of any space. You also have a variety of finishes, hardware, and add-on accessories to consider, including LED lighting, wine lockers, and more. One thing most modern wine racks have in common is making them earthquake-resistant to prevent damage to your collection, with gravity stops between the bottles to ensure they don't touch. Another ultra-important consideration is adding the right climate control system to keep your wines at the ideal storage temperature. Read Leaf Solutions has experience installing through-the-wall units, ducted systems, and split cooling systems, which we can install indoors or outdoors. If you're unsure about the best type of climate control system for your home wine racks, check our frequently asked questions.
Where Can Modern Wine Racks Be Used in the Home?
Because temperature plays a significant role in preserving wines, modern wine racks work best in dim, cool spaces that allow better climate control. Historically speaking, cellars have made the best location for wine storage. However, if your home doesn't have a cellar, a large closet under your stairs or in a converted garage space could do the trick nicely. Wine racks may be added to your kitchen, as long as you keep them away from your appliances and direct sunlight at all costs. No matter the size or space you have available, our team can help you integrate an ideal wine racking system for your needs.
Contact Us for a Free In-home Design Consultation Today
Are you ready to get started with custom wine racks in Larkspur, Denver, Fort Collins, or a surrounding area? Whether you prefer metal or wood wine racks, we specialize in residential and commercial wine racks. Contact the Red Leaf Solutions team to get started with a free in-home design consultation. Modern wine racks aren't just for fine dining establishments or mansions anymore. We would be happy to devise a custom racking solution to help you organize your wine collection and keep it stored under ideal conditions. Adding wine racks to your home will also help you increase your property value. Get the wine cellar of your dreams with the help of our friendly, experienced design team today!