Skip to Content
Custom Racking System Installation in Larkspur, CO
Red Leaf Solutions has provided Larkspur, CO residents with high-quality custom racking system installation services for more than two decades. Our expert team builds beautiful, one-of-a-kind homes for your valued wine collection. Whether you're looking for something classic with exposed brick or stone, or you want something unique and glass, we've got you covered. Our custom wine rack shelving systems provide simultaneous security and display abilities for your vintage wine bottles. From selecting which type of racking systems you want to provide seamless installations, we will be with you every step of the way to ensure the process is stress-free and hassle-free.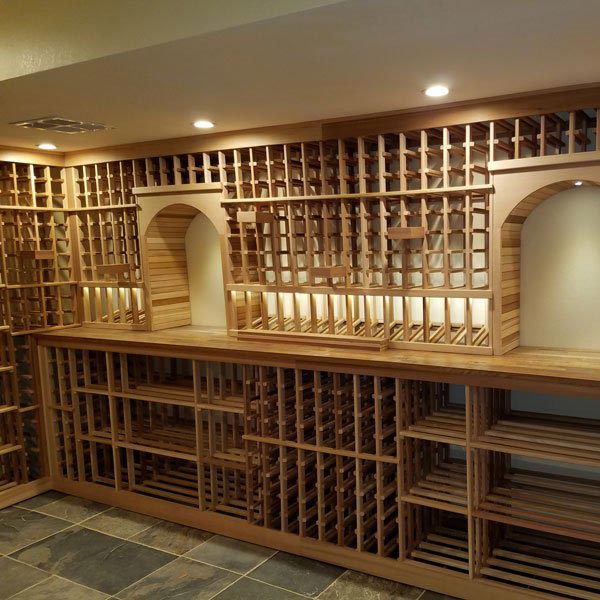 A Customized Wine Rack Shelving System Just for You
While you can certainly purchase a custom wine racking system rather than having one built, many customers opt to have theirs built from the ground up. Many companies offer a set number of designs for customers to choose from, but at Red Lead Solutions, your design options are endless. Any wine racking system we craft is built according to your exact specifications. Our multistep process is designed to ensure you get the racking system of your dreams. We offer the best materials for your custom wine racks by sourcing the highest-quality wood, like redwood, walnut, maple, mahogany, and hickory. We also provide stainless steel polished aluminum options for a more modern wine rack system. Our materials are compatible with long-term wine storage, offering you solutions you can enjoy for years.
The Types of Custom Racking Systems We Provide
Individual Bottle Storage
With this option, each bottle will be cradled in its own cell, either single or double-deep. You may require different-sized cells designed to accommodate various types of bottles, such as Bordeaux, Burgundy or, Champagne, Magnums, and splits.
Diamond Bin Storage
When you require bulk storage with style and flexibility, diamond bin wine cellar racks can accommodate any size bottle. Since bottom bottles are difficult to access with this solution, these custom wine racks are best suited for long-term storage. Your bottles will need to be handled with the utmost care because they will be resting on one another.
Case Storage
A cardboard or wooden wine cabinet holds wine bottles in their original cases. Some clients opt for wall-mounted wine racks for easy access.
Why Choose Red Leaf Solutions?
At Red Leaf Solutions, we have an unparalleled commitment to quality, and we never sacrifice beauty for functionality. Our custom racking systems are designed to be as gorgeous as they are useful. We have an expansive line of manufacturers but only work with the companies we feel the best suit your project. We believe that a premier wine rack system should appear as though it came with the original property. We take immense pride in crafting our custom work precisely to our customer's specifications. When installing a custom wine cellar in your home, climate control is essential to ensure your wine is kept at an optimal temperature for proper aging and taste. Our outstanding customer service and personalized designs will make you look no further for a Denver custom wine rack company!
Contact Red Leaf Solutions in Larkspur, CO today!
If you are thinking of beginning the process of building a wine cellar in your home, our photo gallery is a great place to see some of our finished products. We can work with whatever your budget is. Over the years, we have built a wide range of custom wine racking systems for our customers in Larkspur, CO. Your wine cellar is a testament to your wine enthusiasm, and we do our best to help craft a space that speaks to the style of your home. Our goal is to prepare an area of your home that will showcase your wine collection while adding style and elegance. As designers and builders, we go to great lengths to source the best materials and integrate our years of experience into gorgeous finished products for our customers. Review our custom wine cellar FAQ here and contact us today to learn more.
Contact the Custom Wine Racking Specialists Today