Skip to Content
Glass Cellars in Larkspur, CO
Install Glass Wine Cellars
If you're considering a chic, modern aesthetic to showcase your extensive wine collection in Larkspur, CO, consider a seamless glass wine room or glass wine cellar for maximum elegance and beauty. At Red Leaf Solutions, we offer various state-of-the-art glass wine cellars to elegantly display your wine collection. Take a moment to see if a glass-enclosed wine cellar is a right option for you.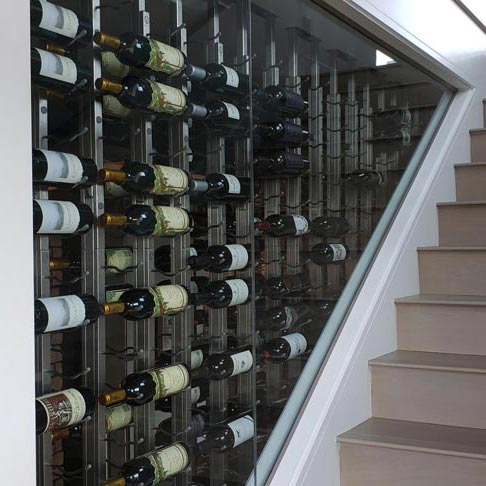 The Future of Wine Cellars
While traditional wine cellars hide your wine collection behind wooden doors, away from the view of everyone, a glass wine room allows you and your loved ones to easily see your wine collection. This adds a sleek, contemporary appeal to your cellar, and can help increase the value of your home. An amazing addition to your home, the glass helps to create a higher aesthetic if you want your wine room to have higher visibility, by creating a showroom effect.
Glass wine cellars are also a matter of convenience; you can easily view your prized wine collection without having to constantly go in and out of the room. But above everything else, all-glass doors and enclosures for your wine cellar simply add a tasteful but simple touch, difficult to match or surpass. With one of our custom glass wine cellars in Larkspur, CO, you'll get the best of minimalist beauty and modern design.
Glass Wine Cellar Installations
While the final product can look very beautiful, it's of the utmost importance the entire installation process is handled by an experienced professional and contractor. With more than 20 years of experience, our expert design consultants will sit down with you to create a unique solution, custom-tailored to your budget, preferences, and style. And with our free in-home design consultation, you can get a visual idea of what you need at absolutely no risk to you. We have a variety of racking systems available, including wood, metal, and acrylic. With virtually endless possibilities when it comes to customizing your own glass wine room, our design consultants will be there to help you through every step of the process. When it comes to the actual installation, we take great care to ensure your glass-enclosed wine cellar is perfect. All seams are sealed, and locks are discreetly placed to not distract from the final masterpiece. Whether you opt for a frameless glass wine cellar door or another alternative, your final custom wine storage solution will be the talk of all your friends and family.
Why wait any longer? Reach out to us today in Larkspur, CO, for a no-obligation consultation so we can help you discover the endless possibilities in designing the perfect glass wine cellar for you!
Contact the Custom Wine Racking Specialists Today