Skip to Content
Custom Wine Cellar Design in Larkspur, CO
Install Custom Wine Cellars
Contemporary Wine Storage in Your Home
If you love wine, you should have a proper place to store it so your investments can last for many years. At Red Leaf Solutions, we have designed and built customized wine cellars for Denver residents for more than 20 years. Our entire team is highly trained, and our owner, Brian Worker, has a background in sales, installation, and construction. When you work with our company, Brian will be there during every step of your project to ensure the construction and installation process goes smoothly. We communicate with our clients throughout the entirety of their project, as well, so they are informed about the project timeline and any issues that may arise.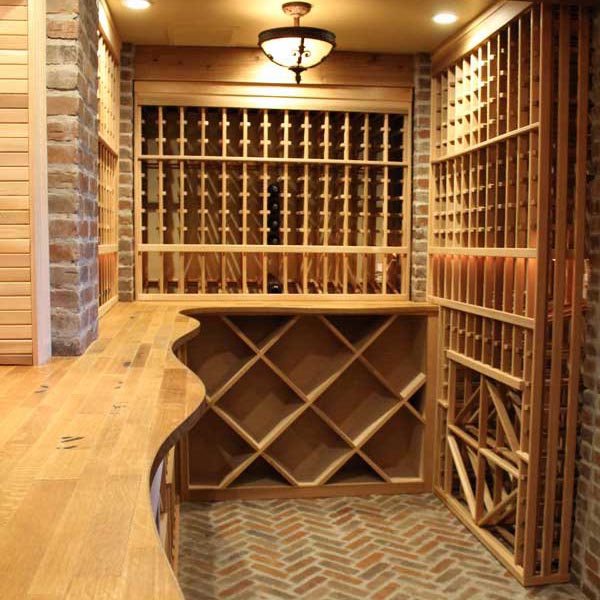 Choose Red Leaf Solutions for Your Custom Wine Cellar
If you want to give your wine the home it deserves, you need a team you can count on to build and install your custom wine cellar. No matter what your budget, sense of style, and home square footage may be, we can create your ideal custom wine cellar. All of our products are top-of-the-line, and we have an expansive list of satisfied clients. Whether you're looking for modern glass wine cellars or a contemporary look, we can help bring your vision to life. The benefits of working with our team at Red Leaf Solutions include:
We have exceptional customer service
We have an expansive line of manufacturers
We provide unique, customized solutions
Contemporary, Modern, & Glass Wine Storage Options
Just as there are several delicious types of wines to enjoy, you have multiple options when it comes to in-home wine storage. Our team proudly builds and installs contemporary wine storage as well as modern wine cellar racks, contemporary wine bars, glass wine bars, wine closets, and more. If you're unsure which option would be best for you, take a few moments to learn more. We'd be happy to provide you with a free in-home consultation as well.
Modern Wine Cellars
A modern wine cellar allows you to be bold with an innovative design. Our wine cellars can be customized to your likings and specifications. Modern wine cellars not only keep your win stored well, but also accentuate the rest of your home. Modern wine cellars typically incorporate frameless glass, clean lines, stainless steel, and other stylish looks. They're ideal for dining room niches or high-rise condominiums but can be utilized in any home.
Glass Wine Cellars
If you're looking for a chic and modern aesthetic, a seamless glass wine room or glass wine cellar is just the ticket. Maximize beauty and elegance by showcasing your wine rather than hiding it away. This popular way to store wine can be employed in many forms. They may look simple and beautiful, but they require professional design and installation. While frameless single pane glass does not provide enough insulation for your wine, we use the best glass brands to maintain temperature. Whether you prefer a glass wine room or a wall interior showcase, you can't go wrong with this beautiful option.
Custom Wine Cellars
If you have other wine room ideas, feel free to run them by us. We specialize in custom wine cellars in the Denver area. If you can dream it up, we can build it. Whether you have a small collection of wine and want to tuck it away safely or you want your extensive wine collection to be the showcase of your home, we can do it all. We offer many different types of wine cellar climate control systems. We handle design and installation as well as maintenance in the future. You can't go wrong with Red Leaf Solutions.
Making Your Wine Cellar Dreams Come True
If you're a wine connoisseur, you've likely at least thought about having a beautiful wine cellar installed in your home. Our team is here to make your wine cellar dreams come true! No matter what you have in mind, we can make it happen. Review our custom wine cellar design FAQs here. We'd love to give you a complimentary in-home custom wine cellar consultation, so contact us today.
Contact the Custom Wine Racking Specialists Today