Skip to Content
Wine Cellar Cooler Service in Larkspur, CO
Wine Cellar Cooler Repair
Trust Red Leaf Solutions for Wine Cooler Repair
It's important to have an effective way to store your wine at the optimal temperature and humidity to ensure it ages correctly. Red Leaf Solutions is proud to be your Denver, CO expert when it comes to wine cellar cooler repair. If your cooling unit needs service or repair, our team will diagnose and repair the problem to protect your investment. We offer wine cooler repairs for all makes and models of wine cooling equipment, whether we originally installed it or not. We invite you to learn more about our wine refrigerator repair services or to schedule a free in-home consultation.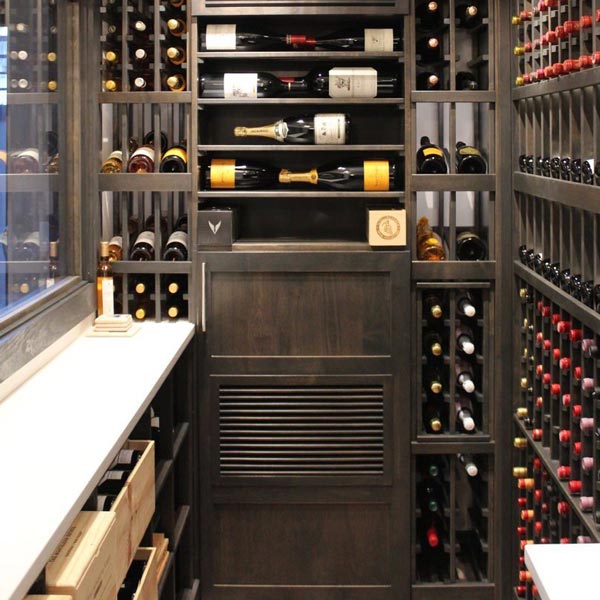 Wine Cellar Cooler Maintenance Services
With the proper maintenance, your wine cellar cooling unit can last a long time. Much like any other mechanical or electrical system, your wine cooler requires maintenance to keep it running at optimum efficiency. Wine cellars consist of parts such as compressors and motors that need service, while the coolants need recharging and the filters and gaskets occasionally require replacement. Even if your wine cooler appears to be working fine, it should be inspected annually to ensure all of its components are in excellent working order. Red Leaf Solutions can maintain your wine room cooler, no matter its make, model, or size.
Common Wine Cellar Cooler Problems
Wine cellar coolers provide many benefits, but that doesn't mean they don't sometimes have problems and require repair. Wine cellars are designed to keep your wine room at a constant temperature and humidity to ensure proper aging. If your wine cellar conditions are deteriorating, there are some things that can be assessed prior to contacting us for service.
Temperature
The temperature of your wine cooler cellar affects the way your wine ages. Tannins and other components of wine react differently to heat. The ideal temperature for storing wine is between 55 and 59 degrees. You can use a digital thermometer to measure the temperature in your wine cellar. IF the room is too warm, check the breaker box to ensure the cooler has power. You can try shutting the unit off and letting it rest for a couple of hours before restarting it. If water is dripping from the unit or ice is built upon the evaporator, turn your cooler off and contact us right away for service.
Light
Your wine should be stored in a dark place because UV light can break down the chemical compounds that give the wine its flavor and character. If you own a wine cooler with a clear glass door, be sure to position that door away from the direct sunlight or any fluorescent lights.
Humidity
While humidity doesn't directly affect your wine, it does affect the bottle, and that could end up ruing your wine. Wine should be stored between 50-70% humidity regardless of type. Low humidity can dry out the cork, causing it to shrink and allowing air into the wine bottle. If your wine cooler doesn't have a humidity controller, you can place a pan of water or a wet sponge in it to raise the humidity. Levels of humidity that are too high can also cause labels to peel off or disintegrate. Check your door gasket to ensure there are no gaps allowing the moisture to escape. If you own a humidifier, but the humidity level is still too low, be sure to contact us for service.
Other Wine Cooler Problems
Our team can also repair your wine cellar cooler if it doesn't turn on, your wine isn't cooling, the cooler is leaking water or making noise, or the door does not close properly.
Repairing All Types of Wine Cellar Cooling Systems
Our team of experienced and trained technicians works on all types of wine cellar cooling systems in homes throughout the Denver area. There are three main types of wine cooling units available to homeowners. Those types are self-contained cooling systems, split cooling systems, and ducted cooling systems. Our team of expert technicians can also repair a comprehensive range of wine refrigerators, including compressor-based, single-zone, built-in, thermoelectric, and dual-zone. Many wine enthusiasts count on their wine cellars to keep their wines cool, but they may not know the ins and outs of how the unit operates. You don't need to be an expert because we are. We can help you determine whether you have the best unit for your needs and can repair wine cellar coolers to like-new condition.
The Benefits of Wine Cooling Systems
The team at Red Leaf Solutions is proud to offer a wine cellar cooling unit repair service. Wine cellar coolers help to maintain a constant level of humidity, creating the ideal environment for your bottles of wine. Many people don't realize how frequently a room's temperature and humidity change from day today. For that reason, you need a dedicated space with the ideal temperature and humidity to ensure your wine ages properly so you can enjoy it fully when the time is right. Go through our wine cellar cooler FAQs here. When you need wine cellar cooling unit repair in Denver, we're the team to call. Contact us today to learn more or to schedule your free in-home consultation.
Contact the Custom Wine Racking Specialists Today