Skip to Content
Install Infrared Saunas in Larkspur, CO
Offering Infrared Saunas for Your Home
If you've ever experienced the benefits of a sauna, you know how enjoyable it can be. Red Leaf Solutions takes things to the next level with our infrared saunas in Larkspur, CO. If you care about your health and fitness, you owe it to yourself to explore the exciting world of infrared saunas. We'll help you understand what an infrared sauna is and the health benefits it can provide you. We'll also discuss the differences between infrared saunas and traditional saunas and why you should order your infrared sauna from us.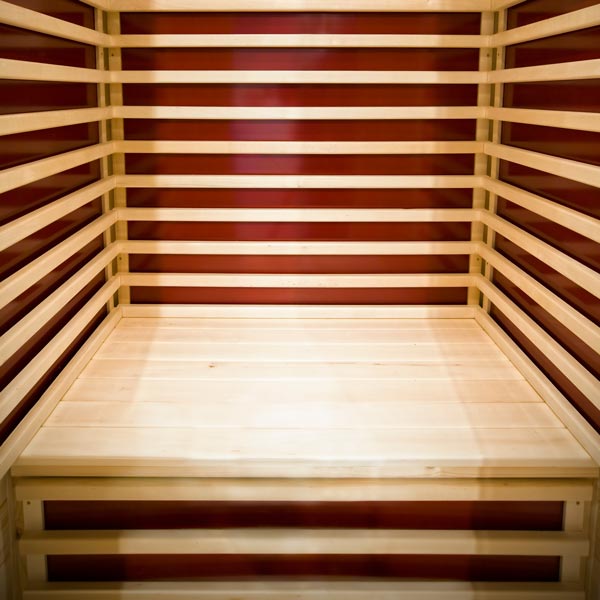 What Is an Infrared Sauna?
From the outside, an infrared sauna may look similar to a traditional sauna. It's a wooden box that's equipped with infrared heaters. Those heaters provide health benefits such as detoxifying and healing the body, boosting your mood, and more. While traditional saunas use steam or dry heat to warm up the room, infrared saunas use heat lamps in confined spaces that raise your body temperature directly. A conventional sauna heats the air around you, which warms your temperature, but infrared saunas directly heat your body temperature. This makes infrared saunas more energy-efficient because they can operate at a lower temperature than traditional saunas can.
The Health Benefits of Infrared Saunas
While traditional saunas provide health benefits, the benefits of infrared saunas are far more significant. Saunas are known for promoting better sleep and relaxation, as well as detoxification and weight loss. Saunas offer relief from sore muscles and joint pain, such as arthritis. They can provide clear and tightened skin as well as improved circulation while providing help for people with chronic fatigue syndrome. An infrared sauna uses infrared waves to help release toxins which you then sweat out. The process brings oxygen and nutrients to the surface of the skin. Infrared saunas use infrared light therapy, which can stimulate collagen, burn calories, and relieve pain. According to one industry expert, infrared saunas can be seven times as effective as traditional saunas at detoxifying the body. They also stated that infrared saunas can produce a sweat compound of 20% toxins compared to only 3% toxins with a traditional sauna by raising the body's core temperature. Each person will experience different benefits, but many find that infrared saunas provide more benefits than their traditional counterparts.
How to Prepare for an Infrared Sauna
While some people take advantage of infrared saunas at a health club or spa, having one in your home allows you to use it at your convenience and as often as you prefer. While infrared saunas don't come with universal instructions, there are some helpful hints from users who are already enjoying their benefits. Check out these tips for using your infrared sauna:
Drink Water
It's essential to be hydrated before using your infrared sauna. Drink a glass of water before entering the sauna. You can also bring water with you to drink during your session. Water will help you avoid feeling faint or getting dehydrated.
Choose Your Temperature
If you're new to infrared saunas, you should start on the lower end of the temperature spectrum, which is from 100 to 150° After a few sessions, you can increase the sauna temperature gradually until you reach 150°F comfortably.
Length of Time
New users should start with 10- to 15-minute sessions, adding a little bit of time each session until you top out at 20 to 30 minutes. Saunas have timers, so be sure to take advantage of them and not stay in too long.
Clothing
You can wear whatever you prefer in your private sauna—some users wear bathing suits while others wear nothing.
What to Do in the Sauna
Enjoy your time in your infrared sauna. Feel free to read, listen to music, visit with friends, or meditate. Avoid sleeping because you don't want to stay in the sauna for too long.
After Your Sauna
After your infrared sauna session, you should take your time to let your body cool down. After you're cool, you can take a shower or bath. Drink plenty of water after your sauna session.
How Often to Use Your Sauna
Most experts recommend using your sauna three or four days a week. You can use it every other day or four days in a row if you are healthy and can tolerate it.
When Not to Use Your Sauna
Avoid using your infrared sauna if you've been drinking alcohol. You should also stay out of the sauna if you feel ill or have a fever. Consult with your physician if you're unsure if an infrared sauna is right for you.
What Makes Us Different
You might know us for our wine cellars, but we also proudly offer custom saunas. Our team designs, constructs, installs, and maintains saunas in your home in the Larkspur, CO area. If you're not sure if an infrared sauna is best for you, we'd be glad to answer your questions. Red Leaf Solutions LLC is happy to offer free in-home design consultations for our home saunas. Contact us today to get started.
Contact the Custom Wine Racking Specialists Today