Skip to Content
Wine Cellar Solutions and Service Throughout Colorado
Red Leaf Solutions provides expert sales, installation, and service of custom wine cellars throughout Denver and far beyond. Just some of the other locations we serve are Larkspur, Boulder, Colorado Springs, Fort Collins, Greely, Lakewood, Loveland, and Pueblo—yes, all the way to Pueblo. No matter where in the Centennial State you live, you'll get the same considerate, professional care from our wine cellar experts. Adding a wine cellar increases the value of your home and is an exciting proposition. There are a few decisions to make first, but our customers tell us time and again that the effort is worth it. But don't worry—you certainly won't be alone. From the time we meet to the time you begin the joyful experience of stocking your new cellar, we're there to answer every question, provide updates along the way, and help you make choices you'll enjoy for many years to come.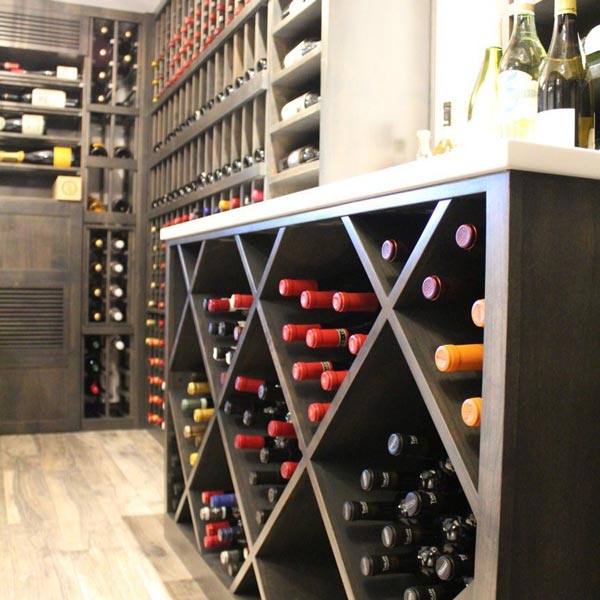 Wine Cellar Installers Who Come to You
You don't have to spend additional time traveling to our showroom; if you're in our service territory, we'll come to your location to provide a free initial, in-home consultation. Let us fight the traffic and any inclement weather while you enjoy the convenience of shopping at home. In fact, it's better to have your first consultation at home, so we can look at your preferred location for the cellar, share the benefits and challenges of placing it there, and decide which temperature and humidity solution are best for the location of your intended wine cellar. We respect our customers and their homes, and our brand of customer service extends beyond the technical aspects of designing and building your wine cellar. We enjoy what we do and know you'll be able to tell that from the start. The first step we take with every cellar we install is to listen intently to what you have to say. Your thoughts and opinions are important to us. We don't build the cellar of our dreams—we build the cellar of yours.
Your Full-Service Wine Cellar Solution
We'll bring everything we need in order to help you make decisions and discover the perfect wine cellar solutions for your home. Your Red Leaf Solutions partners are fully trained—and wine lovers themselves—so they know the importance of designing and building the perfect wine cellar. We customize your wine cellar from the location of the cellar to the size, materials used, and even the customized door, we do it all for you. Once you identify the design and materials you want, the next step is to build your cellar to exact specifications. We take a great deal of pride in our work, which you and your guests will see at first glance. Once the custom door is opened, you'll walk into wine heaven: welcoming wine racks just waiting to be filled with your favorite wines, perfectly chilled and humidified to keep your special investments at peak flavor, color, and bouquet. Call us in Colorado to see how we can serve you.
Contact the Custom Wine Racking Specialists Today