Skip to Content
Exceptional Commercial Wine Cellars in Larkspur, CO
Red Leaf Solutions has served the commercial wine cellar installation needs of Larkspur, CO, and the surrounding areas for more than 20 years. As the trend to seamlessly blend style and functionality in commercial wine cellars continues to rise, we offer nothing but the absolute best with our stunning wine cellars and lockers. Whether you run a restaurant, country club, or wine store, we provide innovative approaches and solutions to commercial wine storage. Each of our wine cellars or lockers is custom-tailored to your vision, preferences, and unique taste, with the invaluable assistance of our experienced design consultants. If you're looking for wine cellar ideas in the area, reach out to our expert team.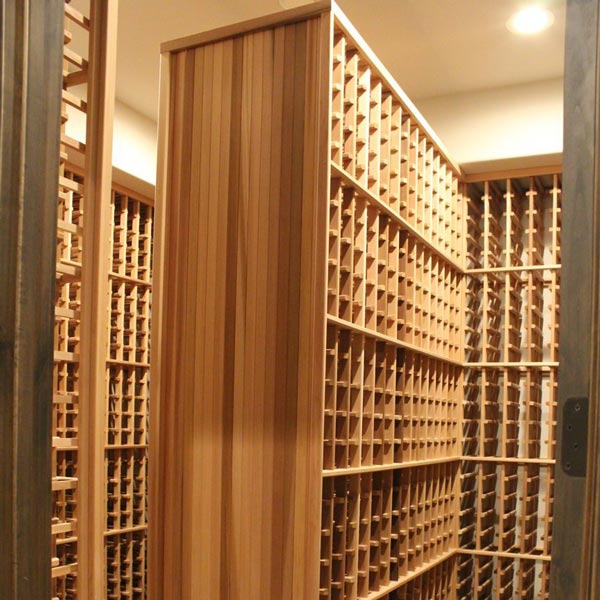 Commercial Wine Cellar Options at Red Leaf Solutions
When it comes to choosing a wine cellar or locker, the possibilities are limitless. One of our expert design consultants will visit your business, discuss your vision and any ideas you have, and explain your options. For restaurants, we can offer both traditional wood cellars, such as stained or unstained wood. However, we often recommend more modern and contemporary glass wine cellar options or metal racking. We use proper sealing to ensure there are no drastic temperature or humidity level changes. Whether you want a more vintage or sleek display or simply want to use our custom racking systems, we will ensure the final product will catch everyone's eye. We can customize virtually every aspect of your wine cellar, from the entryways to the wood types. We use nothing but the best materials, so you can properly store your wine for years to come. Additionally, we provide wine cellar cooling unit installation and wine cooler repairs if you have any issues with your climate control systems and regulating temperature and humidity.
The Benefits of Commercial Wine Cellar Racks
Wine is undoubtedly an integral part of your offerings to your clients; make sure it's prominently displayed and adequately stored. Showcase your extensive wine selection for your customers to view with a glass-enclosed wine room or opt for a more traditional vintage wine rack. Our stylish designs can help increase your sales and help improve your business's perception among your clients. We also provide wine cellar coolers for optimal storage conditions, allowing you to closely regulate temperature and humidity with different configurations with our climate control systems. Depending on your preferences, we will customize accordingly.
Why Choose Us for Commercial Wine Cellar Installation?
In addition to our unparalleled commitment to quality, our team boasts over two decades of experience and expertise. We also offer unique, customized solutions, outstanding customer service, an expansive line of manufacturers, and free, in-home design consultations. At Red Leaf Solutions, our customers are our priority. Whatever type of commercial wine cellar you have in mind, we can craft it for you from the ground up, making it uniquely yours. You can rest assured we'll get the job done right the first time.
Reach Out to Red Leaf Solutions Today!
Whether you run a wine store, country club, or restaurant, don't hesitate to get in touch with our team at Red Leaf Solutions today to set up a free, no-obligation consultation to discuss the various possibilities for your Larkspur, CO business. You can check out our commercial wine cellar's FAQs here. Contact us today to learn more. We look forward to working with you.
Contact the Custom Wine Racking Specialists Today