Skip to Content
Request a Consultation for Wine Cellar Design & Installation in Larkspur, Colorado
You are a wine connoisseur of discriminating taste, both in fine wines and the form and function of the wine cellar in which they reside. At Red Leaf Solutions, we, too, appreciate the finer things in life. As such, we can help you choose the best solution for controlling the temperature and humidity of your cellar, and the most attractive setting for a custom installation you'll be proud to show off to guests. A wine cellar is not only a way to protect the investment you've made in your wine collection: It will also make a statement about you and your home. We are your full-service wine cellar design and installation professionals, from floor to ceiling, door to walls, climate control system, and lighting. When you call on us for a consultation, we won't come into your home with ideas already formulated. We listen to you and respect your opinions. After all, we know you appreciate properly stored wine, and so undoubtedly have already dabbled in the pros and cons of different designs. But when it comes time to make a decision, it's comforting to know you can rely on Red Leaf Solutions to make the right choice.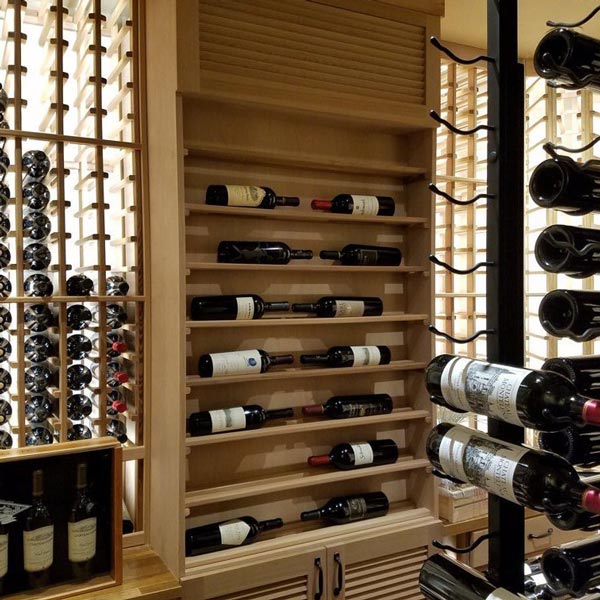 Choosing a Wine Cellar
True, you have an array of choices from which to choose—but which are right to suit your individual taste and needs? What is the optimal size for the location and the number of wines in your collection? What are your plans for expanding that number (or not) in the future? How much additional space do you need to comfortably view and select your wines? Next, we'll identify the appropriate climate control system to store your wines the way they were intended, maintaining all the taste and aroma the vineyard put into its superior wine. When your wines are cellared properly, your guests will leave your home knowing they've spent a special evening with someone who appreciates them. Your choice of climate control units depends on your budget, the size of the cellar, and more. Some are quieter than others; some take up less space in the cellar, making more room for additional wine storage without increasing the footprint of the cellar; some systems can be more accurately fine-tuned as to temperature and humidity control. Put our expertise to work in making the right decisions when it comes to wine cellar climate control.
Wine Cellar Doors
And don't forget the door. We craft customized, made-to-order doors that match or accent the look of the rest of your home, with styles ranging from modern to Old World. If your cellar isn't climate-controlled, a stunning grillwork design may be a perfect choice. Looking for a style set off by a window? Ours are double-paned for the ultimate in insulation, enhancing energy efficiency and adding to the quality of the installation. It's a detail your guests will notice and appreciate.
You have plenty of options from which to choose—but don't be intimidated. Our friendly, personable experts will walk you through each step of the process, making the wine cellar design process a pleasurable experience.
Request a Consultation Below
Contact the Custom Wine Racking Specialists Today