Skip to Content
Wine Storage Ideas for Small Spaces
With over 20 years of experience, Red Leaf Solutions LLC has earned a reputation for excellence by helping wine enthusiasts to create their own wine storage systems. We understand the challenges faced by wine lovers who have limited space for storing their collections. In this article, we will provide you with creative ideas for storing wine in small spaces, ensuring that you can enjoy your favorite bottles without compromising on space or style.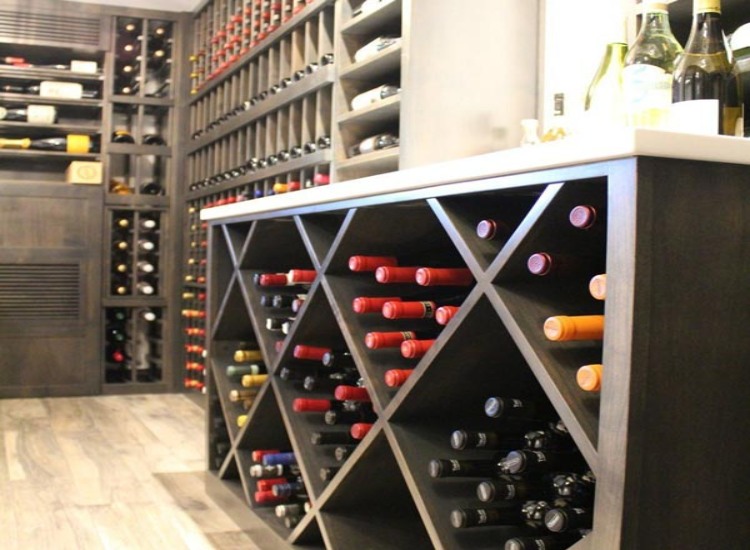 Assessing the Space
When it comes to wine storage in small areas, it's crucial to assess the available space. Carefully take a close look at every nook and cranny in your home to identify potential storage spots. Closets, under-stairs areas, and kitchen cabinets are common spaces to consider. Evaluate factors such as temperature fluctuations, lighting conditions, and accessibility before finalizing your storage plan.
Vertical Wine Racks
Vertical wine racks are an excellent choice for small spaces as they utilize the often overlooked vertical space. Well-mounted wine racks for instance, allow you to display your wine collection while saving valuable floor space. They can be easily installed on any sturdy wall and come in various designs and materials to match your aesthetic preferences. When installing a wall-mounted wine rack, ensure proper weight distribution and sturdy installation for safety.
Wine Refrigerators and Coolers
Wine refrigerators or coolers are a popular option for small spaces, offering precise temperature control and storage convenience. These appliances are designed to maintain the perfect conditions for storing and aging wine bottles. Compact and countertop models are available, making them ideal for limited areas. When choosing the right size and features, consider your storage needs and the available space in your small area.
Wine Carts and Portable Storage
For the ultimate in versatility, wine carts and portable storage solutions are worth considering. These mobile units often come with wheels, allowing you to move your wine collection effortlessly. Wine carts can be conveniently positioned in different areas of your home, adapting to your changing needs and making it easy to entertain guests. With various styles and sizes available, you can find a wine cart that complements your space and adds a touch of elegance to your home décor.
Built-in Wine Cabinets
Built-in wine cabinets offer seamless storage solutions for small spaces. You can utilize existing cabinetry or create custom built-ins that blend harmoniously with your décor. Proper insulation and ventilation are crucial to maintaining optimal storage conditions for your wine collection.
Wall -Mounted Wine Glass Racks
To save even more space, consider wall-mounted wine glass racks. These racks not only provide a convenient storage solution for your wine glasses, but also add a touch of elegance to your space. By hanging your wine glasses on the wall, you free up valuable shelf or cabinet space. Choose a size and style that complements your small area wile efficiently utilizing vertical wall space.
Floating Shelves and Display Cases
Floating shelves and display cases offer versatility and aesthetic appeal to your small spaces. These shelves provide a stylish way to showcase your wine collection while keeping it easily accessible. Arrange your wine bottles and accessories on these shelves, creating a visually pleasing display that adds a personal touch to your room. The customizable nature of floating shelves allows you to adapt them to your available space and design preferences, making them an excellent choice for small areas.
Under-Cabinet Wine Storage
Often overlooked, under-cabinet spaces can be transformed into practical wine storage areas. Install under-cabinet wine racks or stemware holders to efficiently store your bottles and glasses. By utilizing  the underside of your cabinets, you maximize space and keep your wine collection within arm's reach. Ensure proper support and stability to keep your collection safe and easily accessible.
Summary
Wine storage in small spaces can be a challenge, but with the right ideas and solutions, you can make the most of your limited space. Explore the various storage solutions we've discussed and choose the ones that best fit your needs and preferences. If you require professional assistance in designing and implementing a wine storage plan in your limited space, reach out to Red Leaf Solutions LLC for more inspiration, resources, and to explore their range of innovative wine storage solutions.
At Red Leaf Solutions, we aim to create captivating wine storage designs that enhance our clients' homes. Our vision is to design beautiful custom cellars while ensuring the ideal storage conditions for fine wines. We strive to improve the wine drinking experience by expertly crafting cellars that impress guests with exquisite wines. Our comprehensive services include planning, designing, and building wine cellars from start to finish. Whether you're integrating a cellar into a new home or updating your current one, we provide meticulous attention to detail and collaborate with you to bring your ideas to life. Let us transform your space with a stunning custom wine cellar.
For more information about our services, schedule a consultation,  contact us via our website, or give us a call at 720-307-0284.