Skip to Content
Custom Wood Wine Racks
Set Your Wine Cellar Apart With a Custom Wood Wine Rack
Are you gearing up to renovate your wine cellar? Maybe you're just now starting your very-own wine room. Whether you're a seasoned wine collector or getting started, Red Leaf Solutions has the services for you. Based in Larkspur, CO, we work with home and business owners to create beautiful and functional wine cellars. Among our most popular offerings are our custom wood wine racks. These pieces not only store your wine bottles safely, but they also add a flash of style to any space. Learn more about this custom product and how it could fit within your wine cellar.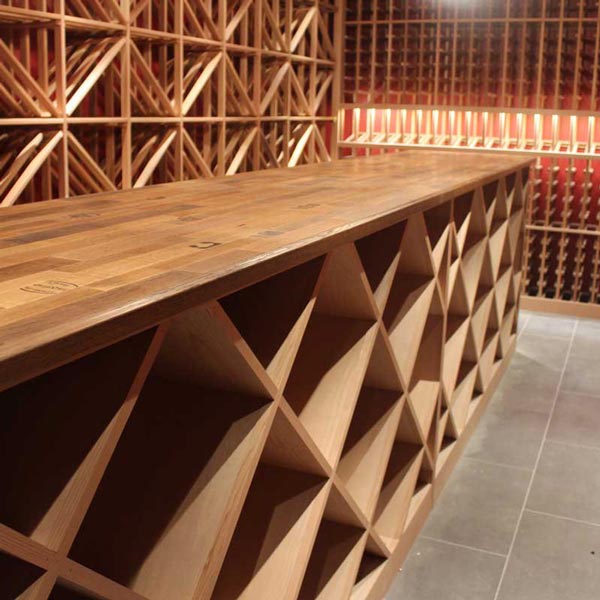 Standing Out Among the Competition
The team at Red Leaf Solutions is known for all things wine and design. Over our years in business, we've come to be trusted for friendly services and exceptional results. Our team has over 20 years of expertise, and we're excited to share our knowledge with you. It's our mission to provide customers with eye-catching wine cellars that are both beautiful and appropriate for storing all kinds of wines. We want you to get the most out of your wines, so we aim to properly design your wine cellar and enhance the wine-drinking experience. Since opening our doors, our team has earned dozens of rave customer reviews and built relationships with the best manufacturers in the business.
Benefits of a Custom Wood Wine Rack
You have plenty of options when it comes to wine storage, so why choose a wood wine rack? While we stock numerous excellent storage solutions, those looking for a classic aesthetic can't go wrong with a custom wood rack. Our customers have gotten countless benefits from their wooden wine racks, including:
Durability
Modular wine rack kits made from wood tend to be more durable than their metal counterparts. While they might cost a little more initially, you can expect your wooden rack to last longer than those made from other materials.
Stability
Wood racks are more stable when compared with metal options. You won't have to worry about your wooden racks shaking your bottles around!
Uniqueness
Choosing a custom wine rack from any material guarantees you a unique, one-of-a-kind piece. While your friends might have something similar, they'll never have a duplicate.
Classic Style
Wood evokes a traditional style that stands the test of time. You'll never have to update your custom wine racks made of wood—this material is always elegant and classy!
A Perfect Fit
Going custom means the final product is specifically tailored to your space. You won't need to worry about the rack being too big or too small, and you'll enjoy a result that matches your vision exactly.
All Your Wine Cellar Needs in One Place
At Red Leaf Solutions, we're happy to provide all of your wine cellar needs in one convenient location. We do it all, from design to climate control. Building your very own wine room doesn't have to be a hassle, especially when you look to the professional at Red Leaf Solutions. Our wine storage solutions include, but aren't limited to, the following:
Learn More About Our Services
Whether you're searching for a white wood wine rack or a wall-mounted storage solution, look to the team at Red Leaf Solutions. We're excited to bring Larkspur, CO homeowners the gold standard in wine storage solutions. We can customize nearly any wine rack to your exact specifications and install top-of-the-line wine cellar features. So, what does your dream wine cellar look like? Contact us today and let us know what you have in mind.
Contact the Custom Wine Racking Specialists Today